Dinosaurs eat man, woman inherits the earth. ~Ellie Sattler of Jurassic Park

Girl Gamers rock the Gamefrog Metrowalk!
Even we are Mother Earth's friends. The iCafe were filled with serious, yet fun & energetic girls of Granado Espada. Some of them were new, but eventually got hooked into playing during our Freeplay.



Btw, in addition to the rabbit hairlace (suppose to be called hairband!), I bought those cute little pencils, so hopefully you ladies enjoyed it. It's a small token of appreciation of your contribution to the community for the past few months.



We had a group discussion after our meal, and we ended up having a "girlie session" alongside the half-naked men they'd like to see in-game (as if the oiled-body and beachwear costumes weren't enough XD) and the heated conversation on issues such as RMT, bots, scams, and other cases. But it was nice to see that most of the ladies didn't complain much about the pricing, which means we're richer than the guys? XP~ (just kidding! ^^v)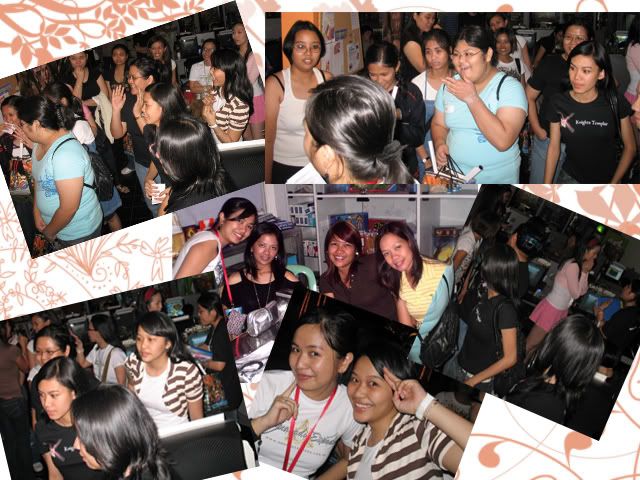 Then instead of the tournament, we opt to raffle the delicious in-game item prizes, and so congratulations to the ff:

stormseeks (the expert girl XD) - Elite La Ventisca armor
NineMoons - Le Blanc
Sigrid - Cumulonimbus Shield

Hahaziah - 500 Adelina's booty searches
Oliveoyl - 300 Adelina's booty searches
Krungster - 100 Adelina's booty searches

And we would like to thank Mr. Relly Carpio and Jainie of hackenslash (Inquirer) to join our wacky gathering, and took photos and interview videos of the ladies. ^_^

All of the present attendees shall receive a Combat Manual Expert 15D and a Forgotten Territory pass, beside the freebies they've already received during the event.

This event will make history - and no guy will ever accuse us of being chixilogs again!

Some of the pics are now being uploaded here: Lumiere Deesse
Next project: to promote more girl gamer gathering & build a girl gamer webby! ^_~