Caution: Major uploads of pictures!
The summer's getting into everyone - and yes, everyone was so damn hot during the last leg of the e-Games Evolution mall tour at SM Southmall.

Since the venue was a bit small, we have to make it work with everything else - booths, computers, and the seats. At least we were provided with 10 seats on the GE booth.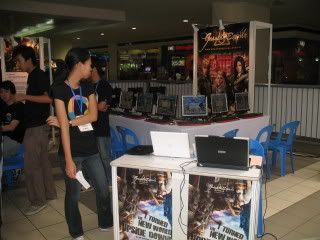 We had major concerns like the Internet connection issues - which was out-of-our-control since they said it needed lots of fixing and making-up to do. Lots of people were already swarming at the entrance at around 9AM.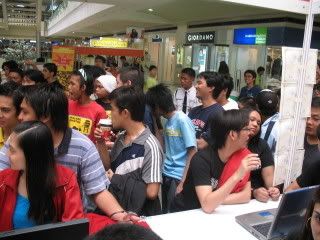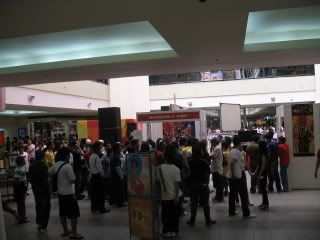 The passport activity was overwhelming, so we had to do two registration - on my laptop and the manual way of writing your name, contact number and email address with a pen and paper.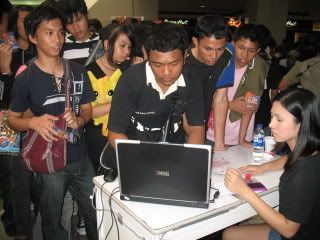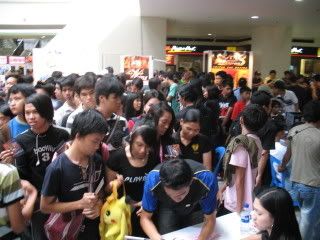 I was totally laughing when PM Ivee had to announce "find CM Veya" while I was trying to rest quietly in our booth. I felt like I was dragged unto the stage and was sold just for the player to get his GE shirt and goodie bag. @_@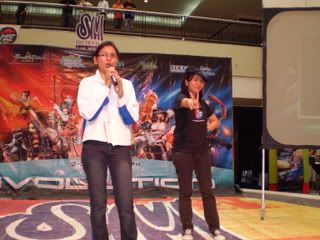 Ivee & I goofing off before the real event starts~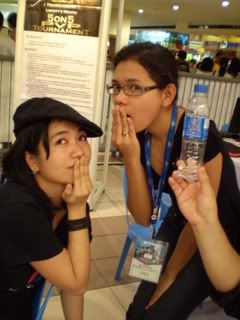 The Face/Off Tournament
We all knew about the 2vs2 PVP tourney, in which the winner for the last leg will compete on the Tournament of the Champions on April 6, for the e-Games Anniversary.

The 1st match was set between Bayushi & Magnificient of Carracci VS Overseer & Ozawa of Cervantes, in which the Carracci team won the first round.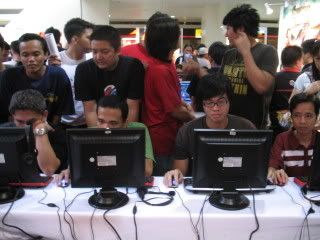 The 2nd match was between Signus & Bordados of Vivaldi VS bonsua & Oliveoyl of Carracci, in which the girl power team of Carracci won this round.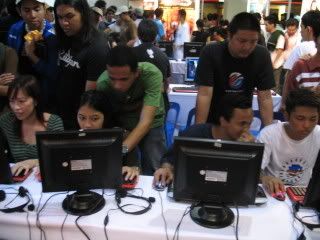 The 3rd match was between saintsinner & Nhosferatu of Carracci VS AnggoandBrothers & AlSaadi of Cervantes, in which the Carracci won this match.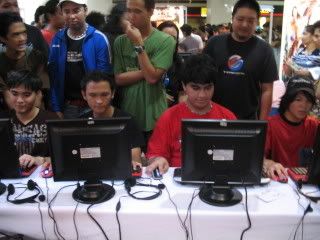 Finally, the last match was between muchazgrazaz & Southernsky of Carracci VS Estradz & Esteveste of Cervantes, in which Cervantes won the last match.



For the semi-finals, it was between Bayushi & Magnificient VS bonsua & Oliveoyl - the guys won the match. The next match was of Nhosferatu & saintsinner VS Estradz & Esteveste - Cervantes team won.

And so it all comes down with the finals - Carracci team VS Cervantes team. It was a best of 3 match, Carracci got the first round, however Cervantes took the two rounds, which makes Estradz & Esteveste qualify for the Tournament of the Champions on the Domination II.



A few snapshots, here and there:
The e-Games Gorgeous CMs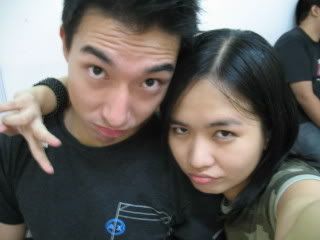 Lowe & me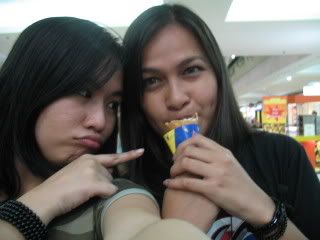 me & Jes

I'd like to thank Outcasts and CARNAGE faction for being active during our past events.

See y'all on April 6 at the SMX Convention Center for the e-Games Anniversary~! ^_~