A celebration of roses, this Valentine Eve,
Fancy walking with someone on cobblestone streets?
Your path guided by the moon and posts of fairy lights
Play your part as Victorian era comes back to life.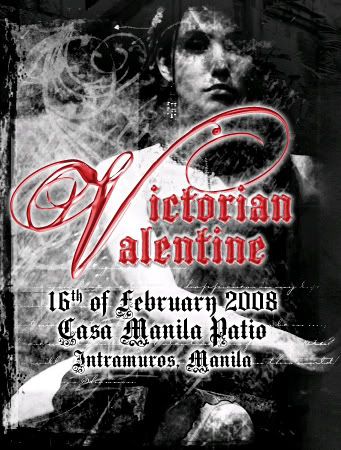 Come dressed in Victorian fashion and join us on the 16th of February, 2008! Whether you prefer it elegant or punk. With a date or without, you are more than welcome to have fun with us! Ticket price will include snacks, wine and unlimited tea, served by our Victorian maids.

Gates will open at 7 PM. The party is up till 12 midnight. Ticket prices are PhP199 for students and PhP299 for non-students.

Click here: http://www.victorianvalentine.info/venue.html for the venue & location map.

Planned Activities
Poetry Reading
Court Dancing
Raffle prizes from FreeKiss
Sword fighting demonstration
Announcement of the Lord and Lady of the Ball, and other Victorian era activities
Source: http://www.victorianvalentine.info/


GE Booth
• Registration for installer & poster distribution
• Merchandise selling
• GE Limited Edition Box & GVC selling
• Trivia
• Draw an emblem/logo & win a prize
• Provide any denomination of GE GVC and pick-a-prize
• Baron & Baroness of Granado Espada
• GE Promos & Referral Program
Promos (For Victorian Valentines event ONLY)
• GE Limited Edition Box Bundle
o 1 Item of the Month code
o 3 Bear Packages
• For every 1,500 peso purchase worth of GVCs, players get a special "Item of the Month" code. The item differs every month, depending on what month they top it up. From Feb to Mar, the items in the package include:
o 1 Panfilo the Battlecook RNPC
o 1 piece Mysterious Steel Piece
• GE players who refer a new player gets 500 GPoints credited to their account for every 300-peso worth of GVCs that the new player purchases.
• All new players who purchase GVC get the following free in-game items:
o 50 GVC – Potion set
o 100 GVC – 15-day Combat Manual (Beginner)
o 300 GVC – 1 Bear Package
o 750 GVC – Potion set + 15-day Combat Manual (Beginner) + 1 Bear Package
• Limits: If a new player purchases 1,500 worth GVCs, s/he must choose between claiming:
o Item of the Month code -or- 2 Potion sets, 2 pieces 15-day Combat Manual (Beginner) + 2 Bear Packages
Invite your friends! Live GE! ^_~