Well, no, not polygamous. :P

I'm here to tell you about my experiences working in e-Games, and now taking a step into my second position or task (or whatever shall we call it) as a wife and soon-to-be mother (hopefully!).

My husband and I met in e-Games, and we were both GameMasters at that time. We both shared the same passion in online games, and other things that I never thought that it was his "requirements" in finding his future wife.

We were the first to test the in-game wedding in Ran Online, he was GM Strycnine and I was GM Celestia.



We both played and monitored side-by-side in our shifts as GMs in Ran Online and Audition. I was Community / Technical GM before but focusing more on community - on which I had excelled in doing so.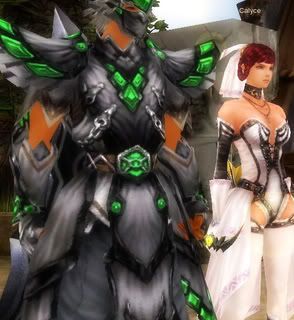 When more e-Games titles went by, we never faltered in playing when we had the time, mostly during dayoffs and after shifts. But we now seldom play when he was promoted as Asst. Product Manager and then now as Product Manager in Ran Online. I was the first to be promoted and also the first to get the title of Community Manager (instead of Asst. Product Manager) for Granado Espada, and now in one of our newest MMORPG - ZXOnline.

I thank God everyday for all the blessings he had given us, and mostly to where we are today.

To think we were just plain hardcore gamers before, and became someone now respected and also enjoying what we do at the same time - the same dedication and passion in online games.

I did not cry (only when my Dad made the mushy speech) but mostly, I smiled every second of my wedding day last February 7, 2009 in Paco Park, Manila. This is because I savored every moment and lived my life to the fullest, and after months and years of soul searching, I finally came home at last... and now I'll be creating my own home and my own family soon, together with the man I adore and love for the past three years.




And will we make more children that are as dedicated gamers like me & Lee?

You bet we will. Ciao~! ^_^